Our last day in North Wales and the weather dawned even better than the previous one. More sun, more warmth, more abundant blue sky. The kids seemed tired and TJS was still suffering with his toe so we abandoned the plan for a big day in the Carneddau for a lazy day by the river. I'd read that the Afon Cwm Llan that drains the southern side of Snowdon was a fine place for a riverside picnic and a swim. Considering we were late and the car park is the start of the Watkin path up to the summit I was surprised to find a spot. Food packed we headed out. It was a truly glorious day
I figured that the spot where all the swimming pools are would be busy so we based ourselves in a lovely spot lower down
The water was crystal clear and icy cold but the weather just perfect. Warm enough to laze in the sun in comfort but not so hot as to be oppressive.
We sat around for a while and then I went off for an explore
The walk along by the falls was superb. I'm a real sucker for waterfalls and rivers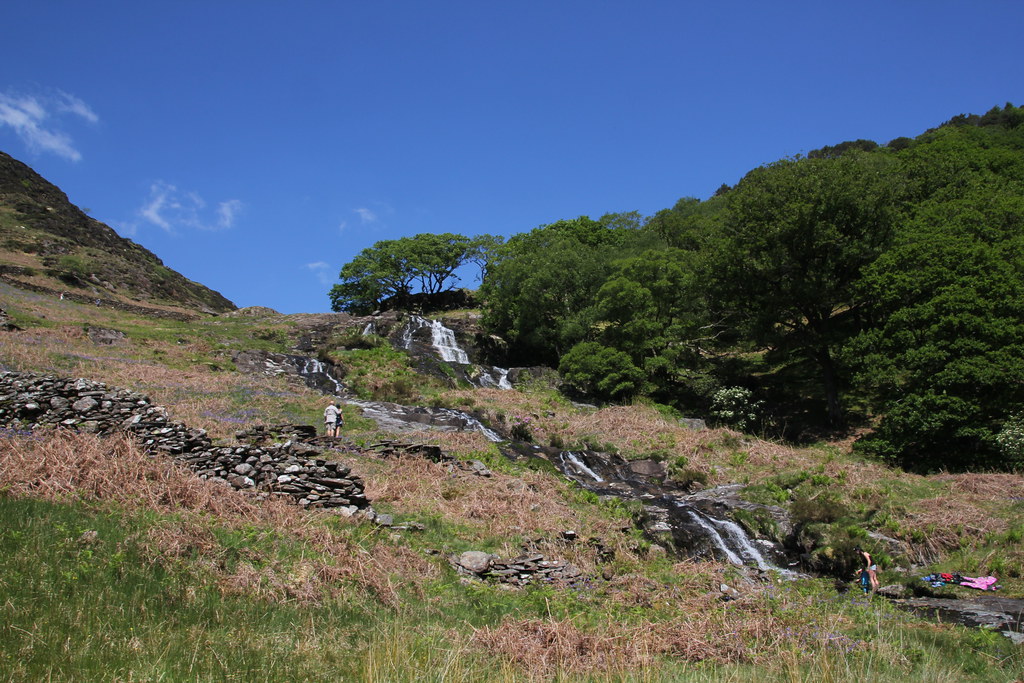 The stretch above the main falls was just picture perfect. A wooded glade with warm flat rocks and the deepest of green pools. Perfect for swimming
I want back down and dragged everyone up the hill for swim. Alas I was the only one brave enough to take a dip. Icy cold at first but wonderful clear and refreshing
We watched a party of canyoners and followed them down. Me jumping in the deep pools behind them. No better way to spend a lazy Bank Holiday
I used the think the Esk Gorge in the Lake District was the top of the list when it came to river swimming but this place runs it very close especially on day as good as this
We returned to our base camp and scoffed a long and leisurely lunch and lazed about a bit more
I even managed to sneak up on TJF and catch her unawares – she doesn't like being photographed
All too soon it was time to head back to the car and then the campsite to take the trailer down
It was almost a pleasure to be taking it down on such a glorious afternoon on such a wonderful campsite.
We finished off the weekend in style with a meal in the Royal Oak Hotel in Betws y Coed. Its much quieter than the well-known Stable Bar next door but the food is excellent and the staff very friendly. Highly recommended.
If Carlsberg did Bank Holiday camping weekends……
And with that I'm in the unusual position of being up to date having not been out much the past couple of weeks. TJS is mid exams so I don't want to head out while he's stuck at home. Weekends of domestic chores, garden BBQs and meals out have taken priority