Start of the long journey home. We could have made it all the way home from Berlin to Hereford in one day. A 6am start, 5 trains and a taxi to get home at 11pm wasn't all that appealing so we decided to break the journey in Cologne. I had no real desire to go there but it was en-route and the timings meant we'd at least get half a day to have nose around. The morning was gorgeous and the light in the station was stunning
Our ICE train arriving to whisk us to Cologne via Dortmund
We travelled first class again and very luxurious indeed. You even get tea in proper china cups. Fancy!
We stepped off the train in Cologne into a furnace. It was almost as hot as Rom at 32C! In Rome we had the luxury of aircon in the apartment. In Cologne we were only staying one night and anticipating cold northern Europe weather had gone cheap. Our room was also like a sauna but it was a rather nice room right on top of the roof. A kind of penthouse suite with about ten windows, all of which were immediately opened! It even had a little roof terrace with views across the station to the massive cathedral
We headed straight out into the heat for a look around and went directly to the cathedral. I've read that it's the largest gothic cathedral in the world and it's absolutely immense
The stained glass was stunning
It was very dark inside so my photos aren't the best but its a truly magnificent building both inside and out
Such is its scale its pretty hard to grab a photo. Its huge!
The centre of Cologne is nothing to write home about. Shopping-precinct-anywhere you might say. We wandered down towards the river Rhine where things were much better. Aside from lazy, broad sweep of the Rhine there were old buildings, squares, enticing restaurants and parkland
Dominating the river view was the massive Hohenzollernbrücke bridge that carries the railway and a footpath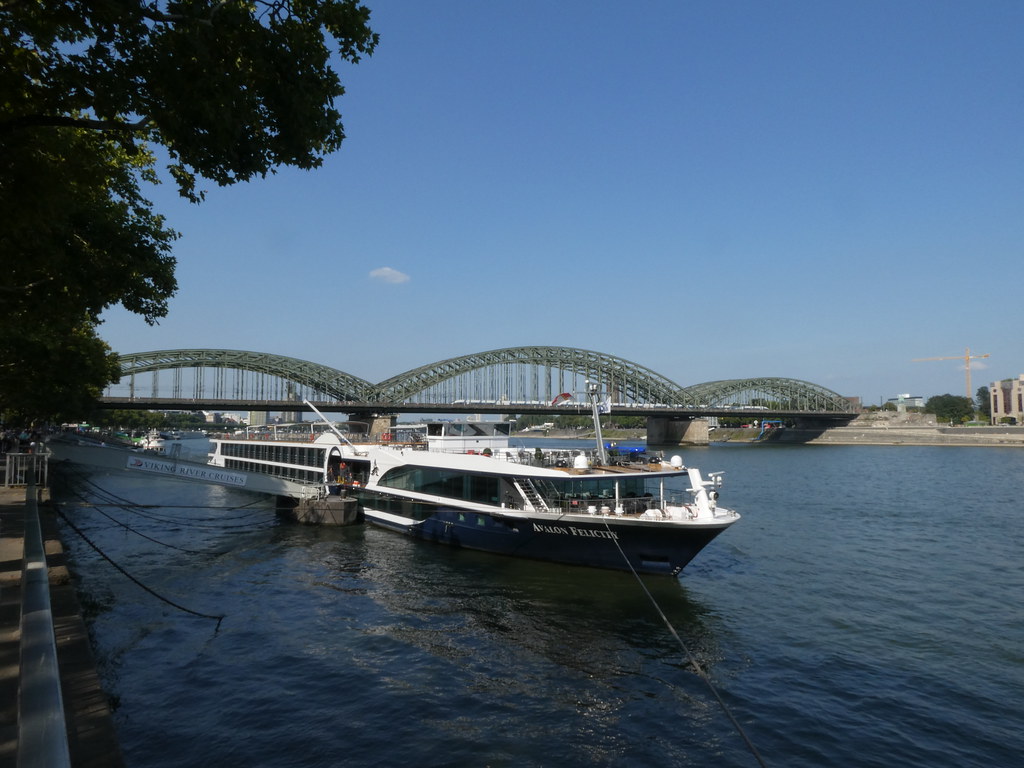 We dropped TJF back at the hotel and despite the heat climbed the 600+ steps up one of the towers of the cathedral. Well, you know by now I wasn't turning that down
The views across the city and especially the Rhine were amazing
No idea what this building was but it certainly caught the eye
Three became one as TJS and TBF left me to my own devices so I walked across the Hohenzollernbrücke. That colourful mosaic pattern on the railings are padlocks. Part of this craze of saying "I love you" by locking a padlock to a bridge. We saw it in pretty much every city but here it was beyond comprehension. There must have been several hundred thousand here. I don't get it. Not sure why a trip to B&Q or wherever to buy cheap padlock and then pointlessly locking it to a bridge shows eternal love. There must have been approaching a £1m attached this bridge. Imagine what that money could have done if used more appropriately. They are grossly ugly as well and here despoil a fine bridge. What a waste. I don't get it
Anyway, the views from the bridge were grand
A cormorant or shag (or whatever), think he's a long way from the sea
One of the huge barges that ply the Rhine
Another shot from my penthouse terrace
We headed out for our last meal and couple of pints of the local brew
The night-time lights were really impressive although again more practice needed with the photos
The cathedral looked especially impressive
Even the station looked rather good
And a final view of the cathedral from the roof to close out our last day and the end of the trip. Cologne probably doesn't have enough to detain you for more than a day but on a hot summers afternoon it was pretty splendid and I'm glad we paid it a visit
All that remained was the long journey home via Brussels (where the picky bastards confiscated my Leatherman multi-tool), London, Birmingham and Hereford
A last slice of first class luxury on the train to Birmingham
And that was that. A truly fantastic and memorable trip. Something totally different for the family. I wasn't sure if it would work out but it was a huge hit and success. Amazing sights, great experiences, history, fabulous food. But the thing I really remember was the laughter. We laughed. A lot. In public much of the time, probably embarrassingly so. I'd hoped the trip would be different, educational, enlightening, enjoyable. I never thought it would be so much fun. I'd love to do it again.
Well as luck would have it we are! I'll give you a break from my city posts while we head off tomorrow for a week in Barcelona. 🙂