"But Lady Elliot Island is on the Great Barrier Reef! Where were the photos of the reef and and all it's treasures" I hear you cry! Patience patience!
The previous post highlighted just what an amazing place Lady Elliot Island is to chill out, take strolls on the beach, watch the sunrise and sunset and admire the birdlife. Of course the main reason people visit the island is that it sits on the southern fringe of the Great Barrier Reef with all its treasures. There are so many facts and figures about it that its never quite clear which are right or wrong. Longest, biggest living organism on the planet is it's claim although the second part it depends whether you see a coral ecosystem as one creature or millions. Doesn't matter. What is clear from our three trips to see it up close (this is just the first) is that it is magnificent.
The common misconception is that the GBR (I can't be bothered to keep typing it out and when you've been there you are allowed to shorten it like a nickname for an old friend!) sits but a short boat ride from the coast. It doesn't. In most cases it's around 30-50 miles out requiring a 1-2 hour boat trip across the coral sea to get to it. There are a few islands that sit right on it where you have the chance to see it without such a day trip and LEI (again I'm allowed to call it that) is one. Here you can walk a few meters from your beach hut, slip on a mask, snorkel and fins and away you go.
The photos while pretty good really don't do it justice especially the fish which are impossible to capture in any detail. It also doesn't really convey just how much life there is. There are a myriad of tiny colourful fish, crabs, molluscs, shrimps and the like which you just can't capture with a compact camera. Hopefully they will convey a small part of the beauty but it is one of those things where you just need to see it for yourself. I count myself very, very fortunate to have been able to see it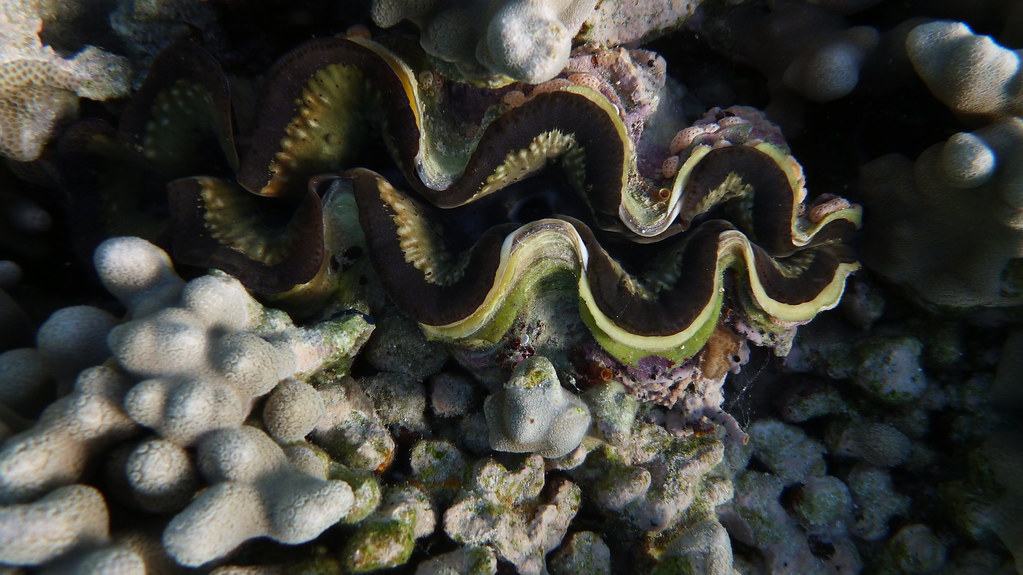 The first thing that strikes you is the clarity of the water, it's crystal clear. And then you notice the second thing, it is of course teeming with fish and coral. When I snorkelled in the Maldives the coral had been severely damaged by the effects of Coral Bleaching and the reef was a lifeless grey colour although the fish were still abundant and colourful. The GBR was not affected and it's coral is still thriving so this was my first time up close.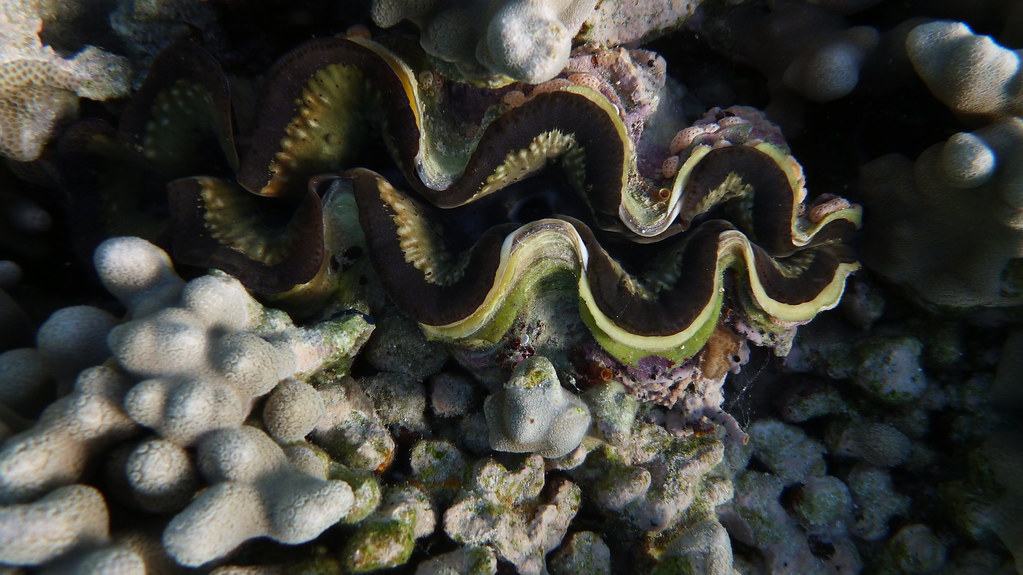 The lagoon on the southern side of the island has it's own reef flat and the water is only about 6-8 feet deep. This means you can just float right over the top of the coral and see it up close. The number and variety of fish is amazing but it was the coral I was pleased to see. Seeing the polyps waving about in the current was truly amazing.
Each time all you had to do was swim out against the current and then turn and drift easily back across the reef before getting out and doing it again. It's absolutely perfect  for nervous beginners as the water is shallow with plenty of sandy spots to stand and take a rest and you are never very far from the shore with a current that pushes you that way.
Whilst the coral and the fish are amazing, LEI has something else.  Turtles
I was lucky enough to see one a couple of times in the Maldives but at LEI they are abundant. You were pretty much guaranteed to see several each time you got in the water and they are the most wonderful graceful and gentle creatures. Most of them are completely oblivious to your presence and you can swim right next to them while they glide through the water. You never tire of seeing them and every sighting and encounter was as amazing as the last. Like the whales its rare to get up so very close and personal to these animals and they are moments to treasure.
The only downside with the beach snorkelling at LEI is the tide. When it recedes the reef is exposed to the air so you can't snorkel over it. You can only snorkel for about 4 hours spanning high tide and we were a little unlucky in our timing as this meant we could only snorkel first thing in the morning and at the end of the afternoon when it's not quite as warm when you get out the water especially as it was so windy. It's fine when you're in the water as its pretty warm.
The flip-side benefit to this is that you can go out and walk amongst the reef. This gives you a chance to get right up close to all that same magnificent life you saw while in the water, and in fact more, without the need to swim or snorkel. Just slip on some reef shoes and pick up a stick to help keep your balance and you're free to poke about as long as you don't pick stuff up. This is after all a World Heritage Site and a very delicate and fragile environment. We took a little guided walk the first time and it was well worth it. The guide showed us where to look and we saw some great stuff.
The is a sea cucumber.
One variety, a leopard sea cucumber has the unfortunate distinction of having a fish that lives up its butt. The fish gets protection and some free food and the Sea Cucumber gets a rectal clean up. Isn't nature wonderful 🙂
A Sea Hare (named for its two horns that look like ears). This fella squirts purple ink at you when he gets annoyed, very gross
A New Caledonian Starfish
An Abalone
A Clam. These are numerous and come in a huge variety of colours, all stunning
On our second trip out we saw more stuff. A Sea Urchin
A Conger Eel
More coral and clams
And a mutant New Caledonian Starfish with 7 legs!
We had another look at the fish feeding so I stuck my camera in the water for a closer look
We also had a visit from a large conger eel that stuck it's head out of the water looking for food – they have quite a chilling scary face but alas I didn't get a photo. TBF also spotted water squirting from a crevice in the coral that turned out to be an octopus but he was well hidden although you just make out a curled tentacle and some suckers
We also took a couple of short boat trips in the resorts glass bottom boat. The daytime trip was in very rough water which the kids found a little trying but we did get chance to try out deeper water which they didn't seem to mind. Photos from this little excursion were marred from my waterproof cameras propensity to fog up so no photos from under the water
We also took a nightime glass bottom boat trip which was also amazing, seeing the the different creatures that come out. They also turn on the UV lighting causing some of the algae within the coral to glow with an unearthly blue light which is surreal and exciting in equal measure. Alas nightime photos from a moving boat over moving water of moving objects is much harder than it sounds 😦
We managed to squeeze in one last snorkel on our final morning
You might be asking where is all the colourful coral you hear so much about as it looks very green and brown here. Well, these greens and browns are an indication of very healthy and happy coral. Coral live in a symbiotic relationship with algae that live in it's tissue. Coral is an animal that lives on passing detritus in the ocean but it needs energy from the sun to survive. The algae, being a plant, can photosynthesise and passes that to coral. This algae is normally green or brown hence the colour of the coral which would be primarily translucent without it.
Global warming means the algae produces too much oxygen and causing the red/orange colours of oxidisation you often see in photographs and the coral doesn't like it much. Rather than seeing this as a display of healthy colour, these reds and oranges are a sign of very stressed coral. When the oxygen enrichment becomes too much the coral rejects the algae and it loses all of its colour and eventually will die without it. This is coral bleaching. The primary greens and blues at LEI show that the reef here is happy and stable
So there you have it, the wonderful underwater world of the GBR at LEI. Much more GBR to come later in the trip but to be able to see it whenever you want and to get up so close and personal is LEI trump card